Fascination of Plants Day 2022 in Umeå
Time: Saturday, 21 May, at 11:00 to 15:00
Place: Curiosum, Konstnärlig campus, Östra Strandgatan 32, Umeå
Free admission!
Which kind of plants have people eaten thousand years ago and how did they prepare their food? How does the pollen look like that causes allergies and how have the plants we eat developed over time? Find out what is the plant's favourite food, discover their bacterial and fungal neighbours and be amazed at how different plants can look like. On the 21st of May, we invite you to a day filled with different activities around plants and plant research. Pass by and get fascinated!
At the Fascination of Plants Day, plant scientists will present their favourite plants, you can take a look into the underground life watching plant roots and their fungal friends, test how elastic plants are and do many more experiments.
Bonsaisällskapet will show bonsai trees from our forest trees and the Friends of Arboretum Norr will present the diversity of trees and bushes growing at the arboretum in Baggböle and that derive from different parts of the world. You can find all activities listed below. Our mascot Flora will welcome you!
Umeå Plant Science Centre together with Curiosum, Umeå University and SLU are arranging the Fascination of Plants Day in Umeå. It is an international event and will be celebrated all over the world. More than 500 scientific institutions, universities, botanical gardens in more than 50 countries will open their doors to visitors.
Come and become part of this world-wide event and be amazed at the fascinating world of plants!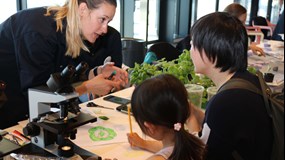 Scientist Noelia Saavedra Berlanga meets visitors.
Image

Anna Shevtsova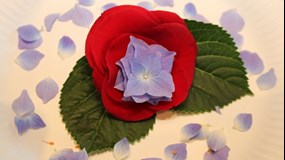 Join the plant art exhibition.
Image

Anna Shevtsova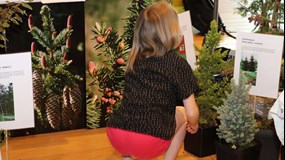 Fascinating trees from the forests of Norrland.
Image

Anna Shevtsova
Activities
1) The superpower of plant cells
Did you know that a couple of plant cells can give rise to an entire new plant? Pass by to see how this looks like and learn why this "superpower" ability is very important for plant research.
2) The leaves outer guardians
Plants have many tiny pores on their leaf surface. They are controlled by two guard cells who open the pores when the plant breathes and close them when it is lacking water. We will show you the two guardians at work. Come and take some pictures!
3) Test the plants' mechanical strength
Why can plants grow upright and still keep their stem flexible and elastic? What happens with their strength when seedlings grow in darkness? Have a look on the tools we use to test the plant's elasticity and try yourself to challenge their strength!
4) What is a plant's favourite food?
Yes, plants also need to eat! Their food is in the soil and they take it up with their roots. Take a look under the surface and see how the roots look like! Would you like yourself to grow some plants? Pass by, grab a plant goodie-bag and start gardening!
5) Ancient plant food
What have people eaten thousand years ago? How did they prepare their food and how can we today get to know about this? We will show you remains from archaeological sites. Have a look and try yourself to identify some ancient food!
6) Pollen allergy
Have you seen the yellow powder that is spreading in Umeå in spring, covering cars and cycles? This powder is pollen produced by plants. Some people are very sensitive to it and start sneezing and feeling bad. That is called pollen allergy. Do you want to know how pollen looks like? Take a closer look on different pollen types through the microscope and try to identify the plant it belongs to!
7) Flowers and bees
Why do many plants need bees or other insects as pollinators to produce fruits and seeds? How does bee pollen differ from allergy pollen? Why are pollinators threatened and how can we support them? Take a look on pollen and bees through a microscope, taste some honey and join the plant material art contest!
8) Plants in space
Can plants be interesting in space research? Yes! There exist even a field called astrobotany. We have been doing experiments with mosses, lichens and various bacteria such as cyanobacteria on the space station and in space simulation labs, and will present you our research! Come and meet the plant astronauts!
9) The hidden colours in plant leaves
Do you think plant leaves are just green? Find out which other colours are hidden in them and try to separate them!
10) The history of our daily food
Every plant that we eat nowadays has been changed over thousands of years because humans were cultivating them. Their unique histories are full of cultural treasures. Come and discover the histories of our daily food!
11) Friends of Arboretum Norr
Did you know that there are more than 2500 trees and shrubs growing at Arboretum Norr? You can find there about 400 different species coming from different parts of the world. Come and learn more about this impressive jewel that you can find in Baggböle. We might even offer a guided tour in Döbelns park (depending on weather conditions).
12) The hidden life of tree roots
Did you know that tree roots and fungi are living in close together and continuously exchange messages? This is very difficult to see in the forest, but we have special tools in the lab that we use to study this relationship. Pass by and discover the roots hidden life!
13) Small but excellent - Microalgae and their huge potential
What are microalgae and what can we use them for? Look through the microscope and discover different species of microalgae used in biotechnology research and industry. Compare their differences in shape, size and mobility and see what kind of products can be made from!
14) Expedition Reef – Film Show in Curiosum's Dome Theatre
Did you know that some corals live together with microalgae? The microalgae provide the coral with oxygen and removes waste while the coral offers a safe environment and supplies the microalgae with nutrients needed for their photosynthesis. Dive into the enchantingly beautiful world of coral reefs in this film! Dome shows at 12, 13 and 14.
15) Find the culprit – discover the plants' microbial neighbourhood
Plants and microbes are living together but their partnership is not always friendly. Discover the plants' bacterial and fungal neighbours, try isolating them from conifer needles and find the culprit that is attacking the plant!
16) Exhibition of bonsai trees
Bonsai trees are fascinating plants - how can they be so small and yet so old? The Bonsaisällskapet will show bonsai of our forest trees (for example spruce and pine) and explain how to make and care for a bonsai.
17) Just old and dead? Learn from dried plants!
Already since several hundreds of years, people are drying plants, fix them on paper and collect them in so called Herbariums. Is it just an art or can we learn something from these collections? Have a look on different dried plants collected here in Northern Sweden, find out which type of information is preserved in them and learn why this can be very useful for todays' farming!
18) Plant quiz with Flora
And what do you know yourself about plants? Challenge yourself in our plant quiz. Our mascot flora will guide you through!

Contact
Anne Honsel
E-mail: anne.honsel@slu.se
Phone: 070 285 6657